HD POWERED STAIRCLIMBER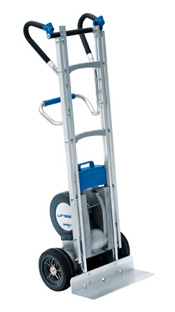 Prices from £3,200 + VAT

Prices & Options

Primarily a battery powered stairclimber designed for the photocopier industry its low centre of gravity makes it far easier to manoeuvre than many of its competitors. It can also transport larger goods, safes, boilers, pub vending machines, air conditioning units to name a few.

In today's health and safety conscious world, this powered stair climber provides a complete lifting support to professional delivery people whilst preventing them from repetitive strain injury or musculo skeletal strain.

HD powered stair climber key features:

Weight -saving alloy construction and ergonomically designed handgrips made with anti slip rubber coating. Modular aluminium construction.




Up/Down Controls on both handgrips, providing equal control for left or right handed operators.




Selectable drive modes - single step or continuous.




Fixed aluminium toeplate.




Puncture proof tyres with elastic profiled running surface - perfect for non surfaced areas




Stepedge braking mechanismn integrated into the wheels to stop any slippage when transporting heavy loads. Brakes can be switched off when turning on flat areas such as landings.




Capable of lifting loads of up to 330kg (51 Stone).




Supplied with standard mains battery charger.




In vehicle charger option available as an accessory.



How the HD Powered Stairclimber works

This climber has been designed to use a lifting arm to totally lift the load and the climber off the floor and on to the next step. The frame is tall and able to support large and awkward loads easily.

As you see in this video the climber is taking a large cylinder up stairs, the climber is large to allow more control of these large loads yet still simple to operate on the flat as a barrow.

Loads can be secured virtually anywhere along the frame as the straps have a clip in design to make it easy to strap a load.

The HD brakes sense the edge of the step as you descend, making it easier to move large objects that you can't see around and helping you stop from pushing them down the stairs.
We do recommend our Certified Training with the purchase of new stairclimber, this makes sure the operator is fully aware of the operation of the equipment, the maintence required and Health & Safety best practices. Training at time of delivery can be arranged for up to six people.

See how a powered stairclimber could help you and your business, call 01379 854486 or email info@a14stairclimbers.co.uk for a demonstration of our products, we are happy to come and discuss your stair climbing requirements.
Click on the link for our latest HD Powered Stairclimber Flyer