sal technical details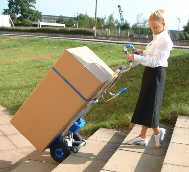 Please see below the main technical details for the SAL Powered Stairclimber models, these details are broken down based on their lifting capacity. Each of these climbers are available in multiple handle options.
The SAL model of climber is constructed from aluminium, making it light and strong.
All climbers come with pneumatic non marking tyres, an easy change battery, charger and one strap.

The handles and grips have been designed to make it simple to move a load on the flat or on the stairs. The frames have a groove along the uprights designed for the easy clip on straps.

The SAL stairwalker comes in three lifting capacities with the 110 having the fastest climber speed.
A14 SAL 110 Powered Stairclimber
Maximum Capacity - 110kg
Climbing speed - 48 steps per minute
Battery capacity approx. Depends on load - generally 200 -300 when climbing, double that descending
Weight (approx) - 16kg (without battery)
20kg (with battery)

A14 SAL 140 Powered Stairclimber

Maximum Capacity 140kg
Climbing speed 35 steps per minute
Battery capacity approx. Depends on load - generally 200-300 when climbing, double that descending
Weight (approx) 16kg (without battery)
20kg (with battery)


A14 SAL 170 Powered Stairclimber

Maximum Capacity 170kg
Climbing speed 29 steps per minute
Battery capacity approx. Depends on load - generally 200 - 300 when climbing, double that descending
Weight (approx) 16kg (without battery)
20kg (with battery)


Standard Accessories

Battery Unit 24VDC, 5ah
Charger BC 100-230 VAC
Strap 3.2 m (50 mm width)
Additional accessories available, please visit the accessory page:
Different toeplate sizes on request