Powered stairclimber Case studies  and scenarios
Our powered stairclimbers sack trucks are being used across many industry sectors, from a warehouse to an office, from a school to delivery firms. Each scenario presents their own unique problems, although the ultimate aim is to transport items up and down stairs.
Please see below a few examples: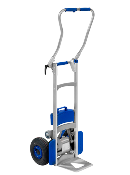 Scenario:

School & Colleges - SAL Powered Stairclimber
With many schools and colleges, there are a limited number of lifts on site. Many schools have increased their buildings over a number of years, adding steps and staircases all over the campus and although there are ramps, they are often not in the places you want.
The SAL powered stairclimber has been the choice machine for a number of locations to easily move boxes of paper, furniture, waste bins and deliveries up and down stairs. This stairclimber option provides a flexible solution, as it is almost impossible to change every part of a building to accommodate a slope and the stairclimber can be used almost anywhere.
The Fold option can be ideal for this environment, light, fast and easy to store when not in use, folding up to about 1M in height. This stairclimber model is also easy to move on the flat, making it simple for virtually everybody to use from the caretaker to class room support staff.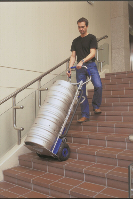 Scenario:

Goods Deliveries - SAL Powered Stairclimber truck
Ranging from White Goods through to Beer Barrels and Crates, Water Bottles to Stationery, these are all awkward and in some cases quite heavy items. Most delivery locations have limited access and it can be very difficult to get more than one person to hold the load.
The SAL stair climber models are designed to take these types of items with optional keg hooks and easy clip strapping point along most of the frame.
We have companies that can now send less people to move the loads and perform the task safer. For example, where it was only possible to safely take one crate down stairs by hand, now 4 or 5 can be taken in one go and with reduced physical effort from the operator and a faster delivery.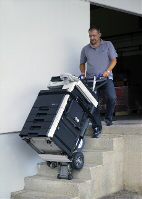 Scenario: Photocopier and Large Printer deliveries - MTK & HD Powered Stairclimber
These bulky items have reduced in weight over the last number of years, but due to the shape of them and still weighing around 100kg, they can be very difficult to carry up and down a flight of stairs. Also getting several people round a copier / printer on the steps may not be safely possible in some locations due the physical size of the equipment..
A powered stairclimber allows one person to take the load where it took 3 or 4. This allows staff to be allocated to other jobs. We've seen in most cases maybe 2 people being sent to a job, one to move the item on the stairs and one to act as their eyes due to the shape of the load.
Some of the heavier 3D printers may require the larger stair climbers we offer, for many copiers the SAL up to 140kg is ideal but for the heavier machines the MTK or HD would be the choice stairclimber.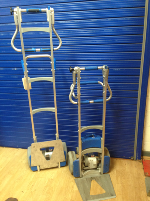 Scenario: Removals (Furniture, Office & Domestic, House Clearance etc)
Recently we had a company with a large furniture delivery of over several thousand completed wardrobes. The problem was to get these into newly built houses in an athletes village as quickly and safely as possible beofre the start of the 2014 games.
Due to the size of the wardrobes, 1.8m high, 1.2m wide and almost 80 kg each, it was difficult to get people round the load on the stairs, the problem required a stairclimber and some special adjustments.
With these very tall items and the quantity that needed moving a super tall climber was required. We were able to increase the frame to the height of the load to allow a better balance on the stairs, this made it easier for the operator to balance the load and helped to avoid knocking newly plastered walls. The picture shows a standard FOLD-L with the EX-FOLD-L being over 30 cm taller standing next to it.
If you have a special requirement, please talk to us about at.